: Spread the word via social networks and email. « Back to Blog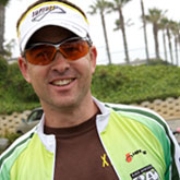 Last night we headed out for our first night training exercise with full crew support. We split up into our two sub groups as we did on the previous 6 hour daytime training event. That allows for both sub groups to get in a good amount of rotations and then share our experiences - what worked well and what needed improvements, etc. We met up at my house to go over the basic route and logistics. After getting our game plan we drove out to the far side of town so we'd have some clear roads to ride on without having to deal with Saturday evening traffic in the heart of Georgetown. The plan was to do a short three hour ride - six half hour segments, which means only three half hour pulls for each rider. But without knowing what we would be dealing with this was about understanding what's involved in transition and logistics- not really a physical training event.

We started out at dusk and by the time the first pull was done the sun had completely set. I started on the second pull and to my surprise the temps had already dipped quickly and the wind was blowing hard. It's one thing to drive and be protected from the elements, it's another to get out into the gusty dark cold and try to warm up right on the spot. Patrick came up to us and I was off. The adrenaline was pumping and I was glad to be ON. My heart rate kicked in and cold vanished quickly even though I was in shorts without a jacket. My power meter was all black- that was probably the biggest difference for me - not having all my info (power, HR, speed, cadence, grade) all at a glance. Rather I had to turn the light on and then only had the info for 30 seconds as it shuts off automatically. Other than that it was all pretty standard. I was happy to see that the lights from the chase car was more than enough light- that was my biggest concern going into the night exercise. And after the first 15 minutes I settled in and started thinking about pacing. I had a hilly section on River Road into the wind. It was slow going as the head wind slowed us on both up and down hills.

For the second pull I turned the corner on the route and got a vicious side wind. But I was pumped and without a direct head wind seeing my mph rise was enough to give me some enthusiasm. Then soon after I turned another corner and I had a dominate tail wind- although it was swirling around. That's when I found that my power meter totally went blank! No stats, no nothing. The best I could figure is that it literally froze! But with a transition someplace up the road there was no question that I needed to just keep pushing.

As I was being "leap-frogged" ahead for my last pull we saw the other group of riders (Phil and Andrea) on the side of the road. The odd thing was that we saw both bikes- so who's riding? I got a sinking feeling right away and asked the crew to call the other group. The response was short and chilling- Andrea has crashed. We were in disbelief and a flurry of concern consumed us. The next half hour was filled with bits of information, a zillion cell calls, and going into emergency mode- getting to the hospital. As soon as I saw her I gave her a big hug and was happy to see that the fire in her was pumping- a relief to know that she was fine. Scraped up sure- but standing tough and determined. I could see that clearly in her tone and gaze.






Comments:
Rally Time
by: David - 03/09/2008 09:26 AM
Wow! Sounds pretty intense and sounds like we've just been reminded of how challenging an event this truly is. I'm excited to be a part of this kind of camaraderie and this kind of endeavor. Glad that Andrea is not too badly damaged and that everyone rallied as a team. Sorry I missed the ride. Looking forward to the next.
filling machine
by: filling machine - 09/29/2008 11:08 AM
We are sell yogurt filling machine,cup filling machine, cup filling machine etc.



Stay in touch with reciprocal links between blogs. Contact us for info.


Xtreme4 RSS

See these and many more videos at our YouTube Channel