: Spread the word via social networks and email. « Back to Blog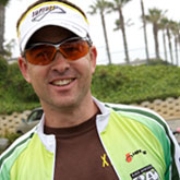 Yesterday we were interviewed by Channel 9 for a spot that will air about our team, our goals, and some details about RAAM. They also caught us in action as we rolled around Hains Point on our home turf- the place we log in the most miles during the week. We had a good time but it also re-energized me about getting the word out about what we're doing. The way they asked us questions about the race and using alternate modes of transportation really showed me that we have a lot of work to do. Most people still don't have a sense of what carbon neutral is or what it means. And those that do, we need to do a better job of reaching out to them. So our push to get more of the public to understand what our free pledge is about and how easy it is needs to be promoted more. And explained more. It's only a week- and as we always say, if we can race across 3000+ miles in a week maybe those 5 miles to work won't seem that far. But it extends beyond that week- that's just an example of what we can do together. Imagine then, if everyone did that just one day a week for the entire year. That's a 20% reduction in carbon output! What about two days a week? 40%!! Ideally that's the goal I'd like to see us reach- show those who pledge and the people they interact with that if it's that easy for a week what it could mean to integrate that into their everyday life.






Stay in touch with reciprocal links between blogs. Contact us for info.


Xtreme4 RSS

See these and many more videos at our YouTube Channel