: Spread the word via social networks and email. « Back to Blog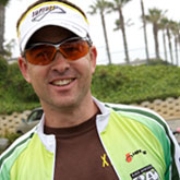 Over the past two months I've been anxious to get my new bike in order to spend as much time as I could on it before Ironman Arizona which is just 4 weeks away. Today, thanks to some help from Denise at Capitol Hill Bikes, it came in and I went in to the shop to get fit. The set up on this bike is quite different from my road bike so the more time I can get on it to get accustomed in that riding position the better. At this point I'm looking at spending at least 5 or 6 days a week on the bike- even if some of those days are not "quality" workouts but rather more time in the aero position. That way when I get to Arizona and I have my 112 mile bike segment it'll be easier for my body to stay relaxed. But Arizona is just the first step- the obvious goal is RAAM and being in the aero position over the 3000+ miles will convert to a ton of saved energy and a faster pace.






Stay in touch with reciprocal links between blogs. Contact us for info.


Xtreme4 RSS

See these and many more videos at our YouTube Channel