: Spread the word via social networks and email. « Back to Blog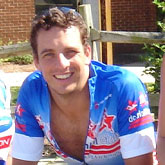 All of us on the xtreme4 team are triathletes--meaning besides our bike training we're running and swimming too. The cross-training is very valuable-and keeps us sane.
I've been wanting to do a marathon for quite some time, and decided to do one this spring. On Saturday, with many xtreme4 teammates cheering me on, I ran the National Marathon here in DC. I had a sense that I could probably shoot for a sub-3:10 time (and thereby qualify for next year's Boston Marathon). So I wrote the splits that I would need for that on my arm and hoped for the best. The morning was perfect--cool and overcast, but not too cold. I felt good and had to hold myself back for the first few miles (didn't want to blow out the legs too early). Along I trotted, snapping off miles in the high 6 minute range--on track for my goal.
Fast forward a few hours and I was realizing that I was ahead of a 3:10 marathon. Ahead of a 3:05. I was ahead of a 3:00 hour marathon. I kept feeling great through mile 24.5--and then hit a series of hills. I suffered some cramping in the calves for the last couple miles through these hills, but had some company for the last mile--Paul rode alongside me on his bike.
Final time: 2:58:17!
All I can say is that Olaf's program WORKS. The intensive base training and cross training has built my aerobic capacity up significantly. And I'm going to Boston next year!



Comments:
Way to go!
by: Mariana - 04/01/2008 05:23 PM
CONGRATS Phil on a very solid race! You looked good out there! Glad we got to see you a couple of times. Very inspiring!
YOU ROCK MAN!
by: Torito - 04/01/2008 07:44 PM
I'm so happy for you! You totally kicked butt out there. Felicitaciones!
Cripes
by: Marla - 04/16/2008 04:19 PM
Came to the site to throw a contribution your way & saw this. Man, you beat Lance's first NY Marathon time! Who's the world class endurance athlete here?