: Spread the word via social networks and email. « Back to Blog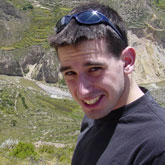 First time in a while that I actually rode outside. I couldn't help it what with it being 70 degrees! Phil desperately wanted to get a ride in - nice and light just spin out everything left in his muscles from the weekend marathon (congrats Phil!). Was great to see him strong at the finish. Pam also qualified for Boston! What an amazing weekend.

Back to today - a few of us headed down to HP to ride around a bit. It was pretty windy, but the temperature was great. There was a lot of traffic cause of the cherry blossoms being in full bloom. It was nice to have the scenery but you had to be very aware of all of the vehicular and pedestrian traffic. Still, just good to get out and stretch those riding legs. Hopefully many more days like this to come - soon!






Comments:
Done and DONE!
by: torito - 04/03/2008 08:01 AM
Very nice photo of Phil...it says it all. Done AND DONE!!!



Stay in touch with reciprocal links between blogs. Contact us for info.


Xtreme4 RSS

See these and many more videos at our YouTube Channel