: Spread the word via social networks and email. « Back to Blog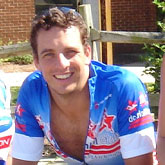 With help from our sponsor dpmsports.com and its owner Ed Uribe, I pieced together a new all carbon fiber TT bike. It's a Dolan Aria, which is handbuilt by an English framebuilder with a sterling reputation. They say the Aria TT is "the ultimate time trial machine" with "12k weave monocoque carbon frame with horizontal dropouts for optimum aero rear wheel positioning and an Alpina integrated headset."
As the frame sat there in my house, while I waited for parts to come in, I got more and more excited about it. It looked super sleek. Finally all the parts, components and random assorted crap came in.
Lee from Capitol Hill Bikes (and xtreme4's trusty mechanic) put it together over the past couple weeks in his spare time. The weather was not great so after taking delivery, I rode it a little on the trainer early this week and it felt great there. But who cares what it felt like stationary! I needed to get out on the open road.
Thursday morning my chance came. I rode down to Hain's Point with the regular DCTriClub gang and let her rip.
HOLY CRAP. It's like riding a motorcycle (with pedals). Another rider came by and said "that thing looks like an airplane." It feels like it. What a great bike. This is going to be my primary bike for RAAM and I'm really pleased with how it came out. See the attached picture for a view of the steed.
Finally, a HUGE THANKS to sponsor dpmsports.com and Ed Uribe. This is a sweet sweet bike and all the credit is due to him.


Comments:
you already fly....
by: Andrea "Torito Colombiano" - 04/19/2008 11:20 AM
Wow, Phil, you are already so fast on your Road bike, now with this new baby you are going FLY!!! Enjoy it, Andrea