: Spread the word via social networks and email. « Back to Blog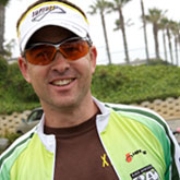 Ironman Arizona was down right brutal. The heat and windy bike course made for a much longer day than most had anticipated. Andrea, Mariana and myself took part in this sufferfest along with over 2000 others on the hottest day of the year. Thanks to all the wonderful friends that cheered me on from afar and let me tell you it made a huge difference getting all your well wishes and encouragement. Never before have I contemplated dropping out of a race, until Sunday. It took me only two miles on the run (or about one and a half) to reconsider and question my options, and think about my long term plans for RAAM. And I did that every mile until mile 21. It was a TOUGH day. Suffice to say I had issues I never thought I would have-- and then some. But everyone did. I didn't talk to a single person that didn't get beat up on the course and even come close to their goal. In the midst of all that I did reach into my vault of support from you all to keep on going.

More to come in my race report... including changing 808 flats in the desert, passing pros on the walk, and how sun burn can hurt more than cramps. I promise not to make you wait months for this one. I need to write this one up and get it out of my system.








Comments:
filling machine
by: filling machine - 09/29/2008 11:12 AM
We are sell yogurt filling machine,cup filling machine, cup filling machine etc.
sheet metal fabrication
by: sheet metal fabrication - 09/29/2008 11:23 AM
Precision sheet metal fabrication: Click to learn more about custom,precision sheet metal fabrication directory. The pneumatic cylinder manufacturers catalog, pneumatic cylinder supplier from here, pneumatic cylinder factories.



Stay in touch with reciprocal links between blogs. Contact us for info.


Xtreme4 RSS

See these and many more videos at our YouTube Channel