: Spread the word via social networks and email. « Back to Blog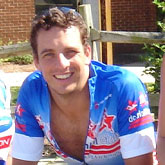 We're gearing up for our first 24-hour training event. We'll be heading out to Grafton, WV tonight and riding the actual RAAM route all the way in to Annapolis. It's gonna be hilly. Should be doing four shifts total for about 20 hours of riding and 4 hours driving out there. It's gonna be tough. It's gonna be rough. It's gonna be a blast.
Here's the route, roughly:
UPDATE: Part of the team finished up their portion of the 24 hours at 3 p.m. this afternoon. The others will be done in the early evening. The course was great--hilly and remote. It's gonna be a great race and this is the last portion. We'll be digging deep to get through these hills of WV, Western MD, and Pennsylvania. Our plans for logistics worked out well. We were in the right place at the right time, well fed (not totally well-rested, but hey it's race simulation) and we felt safe riding at all times.

I'm going to sleep for about a day but want to leave you with the following thought: 40+ mph downhill in the dark. Xtreme. Nuff said.

Comments:
filling machine
by: filling machine - 09/29/2008 11:07 AM
We are sell yogurt filling machine,cup filling machine, cup filling machine etc.