: Spread the word via social networks and email. « Back to Blog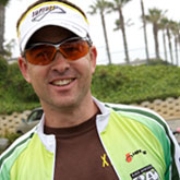 As you can see on Phil's map we decided to simulate the last 315 miles or so of the actual race course. This would give us some insight into what we would be up against in the home stretch but also give a real view of how to follow race maps/directions and see what type of roads and conditions we would face. So even though it was a long ways out to the start it more than worth it.

Of course this was "just" training so the two cars and one MINI van were hardly the amount of space we'll get from 3 full size vans... and so it was a bit more challenging to sleep, organize our gear and move in and out easily. For a 24 hour exercise it was fine but having all those things in place will be critical race week. I took my first nap out on the road- literally. Sleeping on the pavement in a pull-off on the protected side of the minivan- even then the truckers hauling through was enough to keep me on edge wondering if I was going to be squirrel meat. But the rolling brook and starry cool night was enough to get me almost asleep between drive bys.

We learned a ton and now that we've had 4 training events we're really excited about putting all that to work on our last 24 hour race simulation in May. Everything from rider/chase car communications, food prep, sleep rotations, fuel and potty breaks, group a/x transitions, night rotations, rider logging, navigation systems, vehicle signs and lights, flat tire changes, toothbrush accessibility, riding with a helmet, and the list goes on. But having gone through these events we feel we have a great handle on what needs to happen next and what will allow us to have a smooth race. There's always going to be an X factor- our plan and equipment will need to be flexible but with a strong backbone to structure we should be able to handle those other items with ease.

We each pulled two group rotations (4-5 hours each) and split that up between two riders. When we were ON we would divide that 5 hour section into 20-30 minutes on/off between two riders. So it allowed us to keep our intensity up without totally wearing us into the ground. Actually, even though I was feeling it I was ready to keep going at the end. We also switched off more rapidly during the climbs and took longer pulls during the flatter sections. We even simulated the time stations and penalty station to go through all the motions. Nearing the end of the route the Saturday afternoon traffic going into Annapolis was a feat in itself, but the enthusiasm (even on a training event) to get to the finish line was a huge boost.

I could go on and on- it was a great experience and I think we all came together as a team to move ahead as quickly and safely as we could. I'm totally pumped about going out again and can't wait for race week.






Stay in touch with reciprocal links between blogs. Contact us for info.


Xtreme4 RSS

See these and many more videos at our YouTube Channel