: Spread the word via social networks and email. « Back to Blog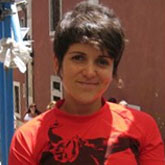 As Eric and Phil said, what a great training simulation it was! After our last 12hr exercise we knew were we needed to work and were better prepared to tackle the last 315 miles of the race course.
Andrea and Phil started and took on the monster WV hills (= STEEP - see profile below) at night and then Eric and Patrick got to ride on the surreal, misty and foggy Cumberland, MD to Pennsylvania. On the second shift, A + P had the beautiful scenic farmland in Pennsylvania and the historical Gettysburg while E + P had rolling Maryland towards their way to the ocean and the finishline in Annapolis.
From a crew perspective, it was great to see all the team work among the Team A sub-group and the mutual support within each single crew member and riders! We functioned like a well oiled machine :-) The chase vehicle were giving us (leapfrog car) live feedback to the riders on things they could improve and tweak as well as directions and things to look for, and MOTIVATION to the riders! "Attack, Attack, Attack"... "Vamos TORITO!"... "Faster, faster, harder, harder". The riders felt very safe and happy the way it worked. On the leapfrog car front, driver and navigator dealt well with motivating the rider (to eat, rest, feed us with their aches and pains as well as moods during their shifts), navigating the race course, dealing with minor issues such as getting lost 2 times, communicating with chase car and resting van, among other things.
Thanks Erica (Julie's friend) for volunteering her day/night to drive the resting van, it was great help!
Thanks everyone for amazing job, each of you contributed to a great training day! Lots of lessons learned that will help us move forward and be more efficient come race week!
I'm pumped to tackle RAAM! GO XTREME 4!!!
Here's a few shots of yesterday's adventure...