: Spread the word via social networks and email. « Back to Blog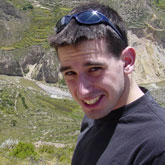 Yesterday Christal and I were out in front of Frager's on Capitol Hill promoting Xtreme4 and further raising the community's awareness of our efforts and asking them to pledge to find an alternate way to get around town the week we are racing RAAM. There was a lot of interest in both our cause and in the team itself - most people thought we were crazy, but that it was a very impressive endeavor as well. We feel the same!

We wanted to say THANK YOU both to Frager's and to the community in helping us get the word out. A few other of our Xtreme4 team will be out there again today, so stop on by and take the pledge to Go Green!






Stay in touch with reciprocal links between blogs. Contact us for info.


Xtreme4 RSS

See these and many more videos at our YouTube Channel