: Spread the word via social networks and email. « Back to Blog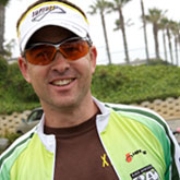 Andrea, Patrick and I, along with a bunch of other crazy triathletes, headed to Skyline to do an amazing 2 day 220 mile ride - none of which is flat. We were determined to go out and get some great riding in but as we showed up the mist of rain turned to sheets and kept falling steadily. No matter that we couldn't hardly see the other side of the parking lot-- we were still getting ready and after a long departure we tackled the climbs right from the beginning. The fog was thick. The climbs warmed us up. And the wet windy descents were bitter and chilling. Luckily those went quick and the climbs reheated our drive. After about 30 miles into the ride the organizer came up the road and told us the park police wanted us off the road. I was in disbelief. Now? The logistics of it were impossible to get 40+ riders into one SAG van with a few cars so we turned around and started to head back to our cars. On our return we began to see a few bikers zooming down a hill in the other direction. What was going? Long story short- we turned around again, were shuttled 20 miles to another meeting location, then waited all the while freezing in wet clothes without any biking to keep us warm. It was a mess. Patrick and I were done with waiting- and I suggested we head back to look for RVs (one of the critical items left on our list of to-dos before the race). So then we headed back to the car. Andrea was solid waiting out the storm and started back up the next day for the full 100+ miles on the return trip.

We met up with Mariana and shopped the RV market while trying to get more info from a couple places. We ended up getting a great overview and then Patrick was able to follow up with our contact and secure a great deal for the team. So while the ride was a bust we felt good about getting another component of our plan nailed down.












Stay in touch with reciprocal links between blogs. Contact us for info.


Xtreme4 RSS

See these and many more videos at our YouTube Channel