: Spread the word via social networks and email. « Back to Blog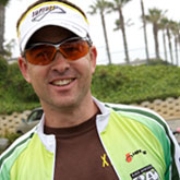 The plan was to meet up at Hains Point (our standard weekday ride) and get in some intervals. The kind were we could still breathe after a set. The translation to that is that we went too hard the day before. But the fitness we're all gaining is certainly a treat when you can put it to the test. Apparently even though I was "invited" by my teammates to come out this morning I was the only one to show up. Maybe that was the plan all along! It didn't matter- getting out on a crisp day to put in some miles was refreshing. I was pumped and jamming along until I looked up to see a long stretch of water... the point was flooded. I ended up doing horseshoe loops so I wouldn't have to ride through about two feet of water on the end.






Comments:
FUN!
by: Paul C. - 05/14/2008 02:50 PM
Looked like fun. I definitely would have gone to HP to ride!
if it makes you feel better
by: KAE - 05/14/2008 08:34 PM
There were several of us out on Tuesday night when the flooding started. Not fun in the evening with all the traffic and a zillion bikers going in every which direction. Your morning ride sounds a lot more peaceful.



Stay in touch with reciprocal links between blogs. Contact us for info.


Xtreme4 RSS

See these and many more videos at our YouTube Channel