: Spread the word via social networks and email. « Back to Blog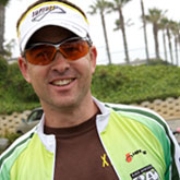 The training and planning - not to mention huge amounts of meeting time - has definitely being paying off in our race prep. Last night we made it to Annapolis on our second 24 hour training race simulation. We had a ton of fun and we executed our plan so much better that we actually saved almost two hours! Sure we rode a little faster but the big time savings came in our crew and rider rotations that are now becoming standard procedures. With most of our core group out there even a few very helpful one-day volunteers were able to step into our machine and not skip a beat.

The night riding was challenging with a ton of fog limiting our visibility to about 25 yards at times. But we came well prepared with lights mounted to our vehicles in order to see when we were getting ready and coming off. All the details started to fit and the dedication of our crew is second to none. It was a great feeling and having 4 engines all hammering away was a thrill. We rolled in to Annapolis in paceline formation well ahead of schedule and celebrated afterwards.

More details to follow- and I'm sure some videos too. Pix from Paul and Christal.
















Stay in touch with reciprocal links between blogs. Contact us for info.


Xtreme4 RSS

See these and many more videos at our YouTube Channel