: Spread the word via social networks and email. « Back to Blog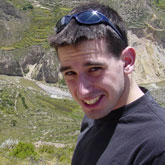 This past weekend we were a bit short on crew members for our 24 hour race simulation so we acquired the gracious help of our friends Angie and Chad. In addition, Pam was able to stop in from Boston to be a part of the team as well. Below is what Angie had to say about her weekend:



My 24 hour taste of Xtreme 4

Truth be told I had to fake hesitation when asked to fill in during the most recent 24 hour training event. I was pretty pumped to help out and witness first hand how this whole Xtreme concept would be going down. After gathering at Patrick's Friday, the gang rolled out to WV in three vehicles (RV included during this go) during what ended up being a very foggy night.

We arrive in Grafton after midnight, unload, re-load, pump up tires, string safety lights, buy more red bull and BAM-- shift 1 starts. Patrick and Eric are up first and begin their foggy, dark, and climb-filled pulls for the next few hours. The crew and rider switch happens around 5:30 am just as the sun starts to rise and it's my turn to jump behind the wheel of the leap van. Phil fires off and we're on for the next 7-ish hours. It doesn't take much time for the crew and riders to fall into a rhythm: transition, ride, leap, repeat. With every switch we're learning and developing more efficient strategies for each pull and transition. These guys are pros! It was often a challenge for me to get ahead of the riders in a CAR because they'd be moving at such a speedy clip. As the hours on the road increased, so did the fatigue. But, motivation (and red bull) served as a perfect counter, and helped push everybody toward the finish. That motivation ended up being a time saver too as the team finished two hours faster than the previous training event on the same course.

Xtreme 4 is gonna rock RAAM hard. Not only are the riders in totally sweet shape (you should see their quads, and in some cases, calves) but they have a solid foundation in the crew supporting them. Mariana and Dave are dominating in their roles and dedicated to the team's success. I was just glad to be part of the fun for a day!

The next time these guys see the roads they hammered across this past weekend, they'll be in the home stretch with Annapolis on the horizon... and maybe even a little ahead of schedule.







Comments:
Thanx
by: David - 06/05/2008 07:54 AM
Great post. Great perspective. Its sometimes hard to see our progress as the improvements are often in small increments. Nice to hear from the outside how we're doing.
sheet metal fabrication
by: sheet metal fabrication - 09/29/2008 11:24 AM
Precision sheet metal fabrication: Click to learn more about custom,precision sheet metal fabrication directory. The pneumatic cylinder manufacturers catalog, pneumatic cylinder supplier from here, pneumatic cylinder factories.