: Spread the word via social networks and email. « Back to Blog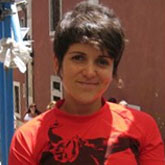 The race is getting closer and closer! Excitment is in the air...We still have lots of organizing to do before heading to Oceanside next weekend. This past weekend, we worked on our "chase" vehicle getting everything ready before Andrea's brother took it cross country yesterday. Lots of trips to the hardware store that's for sure! Today, we are organizing our "leap" vehicle and in the next couple of days a couple of the crewmembers will be taking it as well as our RV cross country.
Our jerseys are ready and look HOT! We have our rotations down, our plan, everything seems to be working out... we CAN'T wait for June 11th @ 5PM when we leave Oceanside!
Thanks for all our supporters and sponsors! Especial, thanks for Peter White for sponsoring us with some GREAT BRIGHT Bush & Muller lights - they last for more than 12h+!!! For Kashi for donating some yummy cereal and snacks. For Scott and CHB for all their work on the riders' bikes and especial thanks to Michele Buckley for lending her baby to Andrea! We really appreciate all your help and support!
Spread the word about Xtreme 4 and if you haven't done so, pledge to ride your bike, carpool or not use your car during our race!
GO XTREME 4!!!!
More to come...
Mariana