: Spread the word via social networks and email. « Back to Blog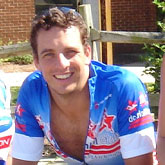 I arrived here this morning in SoCali. I met up with Eric, Christal, Mariana and Andrea at the San Diego airport. We went to the hotel and got a nice leisurely lunch. We registered and picked up our packet(s) and checked out some other teams' vehicles. They don't got nuthin on our setup. The team has been trickling in little by little. The people who drove the RV, van and car all arrived last night. Others flew out earlier. The full team will be here by sunday. Woot! I'm very excited, and would be nervous but I honestly don't know what to expect. The energy is good-all the stress of the past few (six) months is sort of melting away. Can't wait to hit that open road.









Stay in touch with reciprocal links between blogs. Contact us for info.


Xtreme4 RSS

See these and many more videos at our YouTube Channel