: Spread the word via social networks and email. « Back to Blog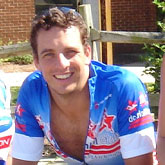 I opened my eyes this morning to a beautiful sight--my merlin sitting on some zipp 404s. Our sponsor, raceday wheels (racedaywheels.com) delivered 5 sets of the 404s to the hotel. What a service. In other news, we're almost a complete team. We'll spend the morning getting the vehix/bikes ready for inspection. We'll also make our way to the hotel in oceanside. Stay tuned.









Stay in touch with reciprocal links between blogs. Contact us for info.


Xtreme4 RSS

See these and many more videos at our YouTube Channel