: Spread the word via social networks and email. « Back to Blog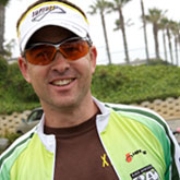 Today we've been getting ready - the entire team putting together all of our gear and finalizing our vehicles for inspection tomorrow- plus a few bells and whistles we'll be enjoying during the race like a speaker system that allows us to listen to our iPods from the chase car as well as get radio communications for directions and inspiration. It's been amazing to see the team come together and outfit this moving command center: banners for our sponsors, lights, flags, race decals and reflective strips, 8 bikes to tune, 20-some wheels, coolers, crew bags, food, emergency supplies, bike parts, jumper cables, toothpaste and the list goes on. It's best in pictures- those are coming. Needless to say it's like preparing for a non-stop week of craziness and unpredictable circumstances- along with everything we are expecting! We're organized and knocking out what we need to get done. The temps are rising and we're all ready to ride too. Can't wait... 3 days to go.










Stay in touch with reciprocal links between blogs. Contact us for info.


Xtreme4 RSS

See these and many more videos at our YouTube Channel