: Spread the word via social networks and email. « Back to Blog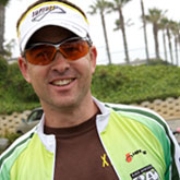 The excitement and the time change makes it easy to get up at 4 or 5 am... Which I'm trying to maintain since my race rotations will have me riding until 1am and then at 6am again. I figure I'll be zonked so getting to "sleep in" til 5.40 or so will be great. Uh hum, better anyways. Today is inspection day which marks the first time we can get race time penalties if we don't pass the 426 point inspection. That's right, penalties start at 15 minutes and each additional one goes up by 15. so the 4th is 60 minutes! And you're DQ'ed after 5. Rules and regs book is about 100 pages and there are forms for everything. To give you an idea we need to have a 3 inch by 1 inch reflective strip on the crank arm which can be seen from the rear. Note that we have 8 bikes (2 cranks per) and that is just one of about a dozen reflective strips on bikes. Extra batteries is mandatory.. The list took all of yesterdy for our entire team to complete! But we are way ready and I hope to be OFF my feet more t oday...








Comments:
setup
by: Emily - 06/09/2008 10:11 AM
The vehicles look awesome!! I'm so excited for the race and I'm not even there!!
Go Team DC
by: Doug - 06/10/2008 08:22 AM
I didn't realize they ran the RAAM any more. I used to follow this when it was on TV back in the late 80's. Saw your article in the Express today. Go get 'em. I'll be following you every step of the way.
sheet metal fabrication
by: sheet metal fabrication - 09/29/2008 11:24 AM
Precision sheet metal fabrication: Click to learn more about custom,precision sheet metal fabrication directory. The pneumatic cylinder manufacturers catalog, pneumatic cylinder supplier from here, pneumatic cylinder factories.



Stay in touch with reciprocal links between blogs. Contact us for info.


Xtreme4 RSS

See these and many more videos at our YouTube Channel