: Spread the word via social networks and email. « Back to Blog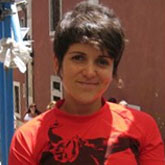 Less than two days to go and we have everything in place and ready to GO! We just came back from our vehicles and bikes inspection and everything went smooth, yeah! The riders were off for a spin and the crew headed back to the hotel where Dave gave us a demostration of changing flats on the vehicles. Now it's chilling time before dinner!
We can't wait to tear up the roads!
Our cars are looking HOT!
More later,
Mariana