: Spread the word via social networks and email. « Back to Blog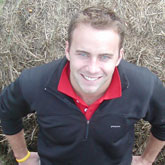 For the riders, we haven't ridden many miles in the last couple days. We've been traveling and getting the bikes and vehicles ready. You know, it really is amazing how much time you can spend on getting everything ready. And the crew has just been cranking away on any possible task in front of us. I swear that we've got the most dedicated, energetic team out here. Amazing.
This afternoon, we put the bikes and legs to a little test though and went for a spin. It was great to get out on our bikes again, as a team, in our team jerseys, with fresh legs and jam a little. I don't think this has been quite the perfect taper that coach Olaf designed, but you could tell we're fresh and ready to roll. 18, 20, 25, 30 mph. It all felt good. And that's the way fresh legs should feel. It's about time!! Plus, our bikes are sweet and fully set up for some serious speed. Today was the first day where we've really put all the pieces together to get the bikes ready to race: Race Day Wheels, Busch + Müller Lights, lots of parts from Capitol Hill Bikes, some sweet Hincapie team jerseys and some slick Spiuk helmets. So it's really starting to feel like we're ready to go. I mean, I really like being by the beach in Oceanside and all (man, the waves looked good today!), but I'm also really ready to put this all to the test and see what kind of speed we can carry to get to the other coast as fast as we possibly can.









Stay in touch with reciprocal links between blogs. Contact us for info.


Xtreme4 RSS

See these and many more videos at our YouTube Channel