: Spread the word via social networks and email. « Back to Blog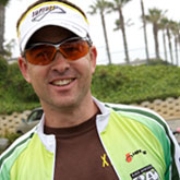 Great news! Our first few sponsors are aboard—and a few about to be added in the next couple weeks. We couldn't be more pleased with the companies that have decided to partner with us on this journey.

First, a word about the "non-company" sponsor – the DC Triathlon Club. Our team comes from the triathlon community and we are all active members of the DC Tri Club. It's a great organization—all volunteer—that has provided us all with training partners, mentors, role models, cheering sections, and perhaps most importantly, friends.

Infinit has also signed on to provide us with loads of their incredible nutrition products. I've often said that racing with Infinit has allowed me to stay strong - and not even be hungry after racing an Ironman. We're looking forward to customizing our own hydration mixes so that each of us can get what we need in the way of electrolytes, carbs, sugars, proteins, and taste. Truly a great product- and totally custom for each person.






Stay in touch with reciprocal links between blogs. Contact us for info.


Xtreme4 RSS

See these and many more videos at our YouTube Channel