: Spread the word via social networks and email. « Back to Blog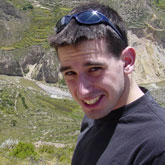 Hey everyone! Chad here posting under Paul's name since internet is next to non-existent for our Xtreme4 crew out on the road. Just got off the phone with him and he provided an update on how things are going and the current status of the crew and riders.
From Paul via phone on the road at TS#15:
"We are in Colorado right now and I just got off my shift an hour or so ago. We had the 2am to about 5-6am shift with Andrea and Phil as the riders, and it was myself and Marianna (didn't get the other names) crewing. That shift brought us from Utah into Colorado where we experienced a 25 degree temperature change from about high 50's to about 35 degrees. The riders were constantly changing clothes to adapt to the changing temperatures. Andrea and Phil are back on again and Eric and Patrick are resting.
Crewing right now is absolutely intense as you are always on. Even when you are on the 'off" shift you are always doing something; making sure the riders are eating, setting up their stuff for the next shift, rider prep. I have gotten about 4 total hours of sleep since the race started on Wednesday and that is the case for almost the entire crew right now.
Despite a couple problems like getting stuck in the sand in Arizona (luckily it was only the leap vehicle and not the RV!), which by a stroke of luck we were helped get unstuck by a couple off duty police officers coming home from their shift, everything is going really really well. Everyone's spirits are high and we are all really pumped about how well we are doing. Hearing about everyone rooting for us and tracking us back home is the icing on the cake!
It is going to be a great feeling rolling into our home town area for the finish and I am sure we will be even more pumped as it draws near. We are looking forward to a kick butt welcome home Chad...no pressure on you though!"
Thanks Paul, no pressure taken!
Everything is going great and the whole team is absolutely amazed at how well they are doing! While they came into it with expectations and goals, they wanted to finish first and had no idea that after only 24 hours and change that they would be in such a position. They have been bouncing in and out of 2nd and 3rd place out of ALL the 4 person teams and are leading their division by 2 time stations and only making up more ground as they trek on!
Good luck you guys and we are all thinking about you!
Here's hoping to better internet access as well!




Comments:
thanks for the update!!
by: Emily Miller - 06/13/2008 12:13 PM
Many thanks for the update, Chad. Due to my intense desire to be out on the road with Xtreme 4 (not to mention my boredom here at work!), I've been following their progress as best possible, but was sad not to have updates from the Team itself. I've been absolutely amazed to watch them not only gain a significant lead on their own group, but fighting it out with the top teams in the all-male groups too! I've never met Andrea, but am so proud she's representing for the girls! looking forward to hearing more. -- word to the Serfass clan :)
Keep it up
by: Travis - 06/13/2008 07:25 PM
So glad to see the update! I read about another team getting their RV stuck in sand and sitting for hours waiting for a tow truck. Luck was on your side. Keep pushing hard - I can't wait for you all to get to Annapolis so that we can all get on with our lives and away from the totally sweet GPS tracking. Looking forward to hearing how the riders are holding up and if they are getting any rest.
yesss
by: angie - 06/14/2008 11:09 AM
No more mountains for awhile! Enjoy! GO XTREME4!!!!!!!!!!!!!!!!!!!!!!!!!!!!!!!!!!!!!!!!!!!!!!!!!!!!!!!!!!!!!!!!!!!!!!!!!!!!!!!!!!!!!!!!!!!!!!!!!!!!!!!!!!!!!!!!!!!!!!!!!!!!!