: Spread the word via social networks and email. « Back to Blog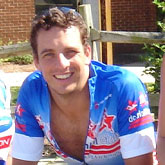 Bike training in the DC area is both monotonous and exciting. How can that be, you ask? Well, it's fairly monotonous here in the city and the near-in suburbs. We end up riding the same routes over and over, and most of them are fairly (or extremely) flat. But get a little outside the metropolis, and you can find beautiful country roads with rolling hills and the occasional serious climb.
Most of our weekday training happens down at Hain's Point--a public park area behind the Jefferson and Lincoln Memorials. We do loop after loop of the very flat road--working on speed through intervals but we're really just getting the miles in.
Weekends, however, are a little different. Then we get on the bikes and head out of town. Often we end up out by Poolesville, MD, which is a great starting point itself. That's about 35-40 miles out from the center of the city, so it makes for a good out and back ride. If weather cooperates, we should be getting together a ride out there this weekend--with our team and other riding partners from the DC Tri Club.