: Spread the word via social networks and email. « Back to Blog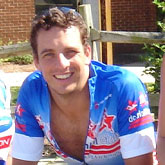 Andrea and I took over for our first shift in borrego springs. Eric
and patrick had put in a super solid first segment and we were right
in the mix. It was difficult riding, mostly because it was so
unbelievably hot but also because there were so many teams on the same
segment of road. We had some trouble with teams who didn't want to be
passed but we handled that by passing them and leaving them in the
dust. We finished up and I had to do some icing to get my core
temperature down- I was that hot. We slept and later that night took
our next shift. We rode across some arizona valley floor and then up
the side of a mountain. It was a much more manageable shift but we
were very sleep deprived. We chased a team all the way up the
mountain, narrowing the gap significantly, and then turned it over to
eric and patrick.
Our next shift took us up another mountain- which was very enjoyable
really. I got a screaming descent down through jerome arizona and down
to cottonwood (??). As I was going down I had to ask cars to get out
of my way- and they did.
Our last shift took us from flagstaff through TUBA CITY and the navajo nation.
Now we should be sleeping in preparation for our shift tonight.