: Spread the word via social networks and email. « Back to Blog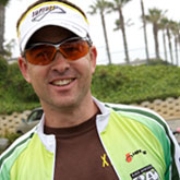 It's early for 2010 and we know it. But time flies when you start to plan for Team RAAM. We got some of riders and crew chief together last night to brainstorm on 2010, the team, the logistics, the cause - but mostly to see what the vibe is. Who wants to crush it and where does each person find the passion. The energy was high and it only ignited my desire to ride even more.

I can't wait. The feeling of flying down two lane mountain passes at close to 50mph in pitch black while negotiating to pass another team car... well you don't get to that every day. Who gets to wake up in the wheat fields of Kansas and catch the first light of day as your shift starts. Or not grasp if you're going up or down in the midst of a fog filled night in the hills of West Virginia- because it doesn't matter that you can't see a horizon or your computer, you're always pushing on the pedals.

I take it back- I once said it was fun. This is way more than just fun, it's like spiking your adrenaline for a week to the point that when you make it back home you just can't reacclimate to these "normal" days.






Stay in touch with reciprocal links between blogs. Contact us for info.


Xtreme4 RSS

See these and many more videos at our YouTube Channel