: Spread the word via social networks and email. « Back to Blog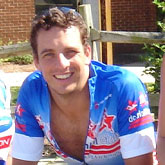 The weather finally turned here in DC, and though it was sunny for most of the weekend, it was cold! My blood is still thin from summer and the warm fall that we've had. As a result, I spent a bunch of hours on the trainer this weekend. It's a sweaty, boring endeavor, but it has to be done. I also plan to start riding the trainer before workouts--gotta get that milage up.
Speaking of getting the milage up, right now we're looking into various coaching services. This is going to be an important part of the training regimen. While all of us have multi-sport and endurance backgrounds, training for a non-stop, multi-day event is far different than training for a mere Ironman. We'll need the professional advice that a coach or coaching service can give to make sure that we're not over- or under-training. I don't want to spend any more time on that trainer than I have too...

Comments:
Trainer Studio for Winter Training
by: Eric - 10/30/2007 08:28 AM
We're looking into a larger space for trainer sessions for the whole team. One idea is to ride the same "course" and simulate certain race locations to mix up the longer sessions.