: Spread the word via social networks and email. « Back to Blog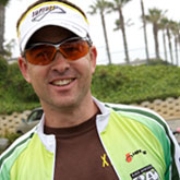 We rode hard today and got another 65+ miles in over a rolling route. My back was certainly better and I tried to keep from pulling at it too much. We had a good showing from our team (riders and crew) and I'm looking forward to pushing ourselves as a team, after all we're all a bit competitive too. As a group I feel we'll keep striving to crank out more miles and not let up as much on the longer rides- maybe even hit those climbs with that extra effort. The difference now is that we're training for the team- not just ourselves. The responsibility goes further than just your own goals. And that aspect is something that I saw coming but I can feel the energy of it now.

Being a team that really fits well together has always been our main goal, above sheer power or talent. And dividends of that mission are already paying out. I'm excited of the challenge and I'm glad to have such a great team.






Stay in touch with reciprocal links between blogs. Contact us for info.


Xtreme4 RSS

See these and many more videos at our YouTube Channel