: Spread the word via social networks and email. « Back to Blog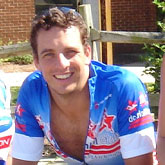 I was out this weekend for a nice 50 miler with a group that included some road racers from Route1Velo, a local racing club. Coming from a triathlon background, I'm used to long rides at moderately fast paces. This ride was like that except for one added ingredient: Attacks. These guys would attack on hills and certain straightaways and man, it was all I could do to keep on them. Attacking uses those sprint muscles that I've spent the past few years actively NOT developing. It is heartening, however, to know that even with my triathlon background I'm able to keep up with the road-racers (in training). Kind of a mental boost. And who knows, maybe those sprinting fibers will come in handy toward the end of the race (but I doubt it).



Stay in touch with reciprocal links between blogs. Contact us for info.


Xtreme4 RSS

See these and many more videos at our YouTube Channel