: Spread the word via social networks and email. « Back to Blog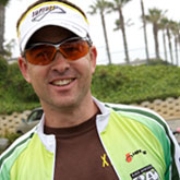 It's not pretty - but it's necessary. The trainer time is spent between boxes in my back porch while I cruise TV stations and listen to something loud. The upside is that I'm surrounded by windows where I can see either the nasty weather and blistering cold from inside- while having the fan on so I don't sweat to death. The downside is that the enjoyment of biking is quickly lost in trying to hold X watts for X amount of time. Sure we have intervals and training session DVDs to help us get through the tough miles but one way or another it's just not the same as being outside. With about 250 miles of bike training this week on the schedule and the weather not cooperating much of my time will be indoors. We're actually planning a 4 hour group "trainer ride" on Saturday- more on that later.








Stay in touch with reciprocal links between blogs. Contact us for info.


Xtreme4 RSS

See these and many more videos at our YouTube Channel