: Spread the word via social networks and email. « Back to Blog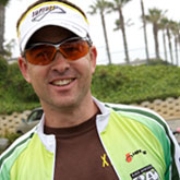 We made into San Juan last night around 5pm- the entire team in tact - and we were happy to be back. It was a long third day- longer than expected with almost 150 miles. Part of the extra milage was because I doubled back a couple times, then we hit a detour and then we were on our own and made some bad turns. But what counts was making into the old city of San Juan with the sun still in the sky- albeit low. It started out with an early 6am roll-out headed to the first pit stop- Rincon lighthouse as a group. Then I continued with the fast group to lunch. The hills and the climbs were more than I had remembered and I felt a bit guilty having told most of the team it was a flat day. I'm sure in a couple weeks my memory will diminish the larger climbs back to hills.. which at times reached 14 percent grade. The other challenge is the constant trade winds blowing in your face as you go east. It was a good mental challenge. All in all we had a great time and we have many more stories to tell about our epic training weekend. So very proud of our team. And I think I hit about 400 miles in 3 days- some lightning fast and others at a steady push. More to come..














Comments:
Awesome Job!
by: Travis - 01/28/2008 02:16 PM
Xtreme4 crew, Glad to hear that you've more or less survived P.R. roads with all body parts attached. Enjoy the rum and see you soon!



Stay in touch with reciprocal links between blogs. Contact us for info.


Xtreme4 RSS

See these and many more videos at our YouTube Channel