: Spread the word via social networks and email. « Back to Blog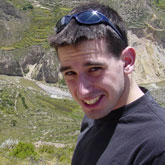 We've been back for a couple of days now after the ride in Puerto Rico. Kip and Andrea are doing very well and anxious to get out riding again. Though the weather in DC is chilly compared to what a few of us were lucky to experience a couple of days ago, we've planned a good group ride for tomorrow morning to keep the momentum flowing.

It was a really great experience all around down in Puerto Rico. A great group of people from DC, perfect weather, amazing hospitality, a friendly group of riders from all over the world, and really nice scenery made the trip quite an experience. It's something that I am definitely hooked on and glad that I decided to go down there for. Our team riders Patrick, Andrea, and Eric looked really strong and confident on all three days and were leading the entire group of riders down there - pretty impressive! Kip was right there with them. Tim, Christal, and I took everything in a more leisurely pace. We all had a really great time on and off of the bikes and look forward to future rides together to gear up for RAAM in June!















Comments:
filling machine
by: filling machine - 09/29/2008 11:19 AM
We are sell yogurt filling machine,cup filling machine, cup filling machine etc.
sheet metal fabrication
by: sheet metal fabrication - 09/29/2008 11:21 AM
Precision sheet metal fabrication: Click to learn more about custom,precision sheet metal fabrication directory. The pneumatic cylinder manufacturers catalog, pneumatic cylinder supplier from here, pneumatic cylinder factories.



Stay in touch with reciprocal links between blogs. Contact us for info.


Xtreme4 RSS

See these and many more videos at our YouTube Channel