: Spread the word via social networks and email. « Back to Blog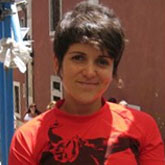 We are finally here in Las Cruces, NM after all day traveling yesterday and a few bumps along the way... Can you believe it actually snowed here last night?! Yup. It was colder than DC... Talk about escaping the bad weather... we were in the middle of a bad storm coming through. Today it was warmer, mostly 50s and the rest of the week is back to high 60s - low 70s... Our day started with a trip to the bike shop to get extra tubes, CO2, etc and then we headed to the pool for a nice 4,400m swim at the NMSU outdoor pool. We even got a tan :-) Then we grabbed some lunch and headed out for our easy 2hr ride... it turned out to be a toughie with 37mph gusts and it felt like we were going to fly out of our bikes! Jacqui, our friend/training partner/pro triathlete mentioned that it was Kona like winds... guess good training for IMAZ and RAAM!
Tomorrow, we have 100 miles (Transmountain Anthony gap century double climb) and a 40 min run off the bike = FUN!
More to come...








Comments:
Looking awesome
by: Eric - 02/17/2008 10:26 AM
M+A thanks for the inside view via pix and stories- looks like you all are going to have an awesome time. We took a short run this morning and getting ready for our full week of riding- starts tomorrow.