: Spread the word via social networks and email. « Back to Blog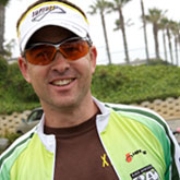 After many long hours getting work projects finished and wraped up this week we're finally off to California. Up at 4am on a Sat. The last few days have been jammed packed with only 3-5 hours of sleep per night-- almost like training for sleepless RAAM rotations! But hopefully we'll get some rest and relaxation while we're there even though we're planning to ride 7 days straight making our way down from San Francisco to LA. I mean even if you're riding some serious climbs and trying to keep yourself from getting swallowed by the pro peleton, riding along the pacific coast has a certain calming feeling. Capitol Hill Bikes has really stepped up for us and gave me a loaner bike while my broken frame is being replaced. This has been critical stay on a consistent traning regimen as well as being set up for this week long tour. I was eager - well still am - to get my frame and setup just right but this option has been a real life saver. Lee even installed my power meter yesterday which will be great to gauge my workouts with. So all in all it should be a good week- with only some minor work distractions. I'll try to keep you posted from the road.









Stay in touch with reciprocal links between blogs. Contact us for info.


Xtreme4 RSS

See these and many more videos at our YouTube Channel