: Spread the word via social networks and email. « Back to Blog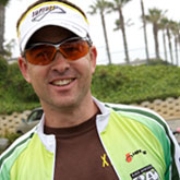 Today was a watch and get ready day. Went for a run this morning, built up the bikes and went for quick test spin just to make sure we were all set. Then loaded up the truck will all the bikes and gear. After that we were playing the tour(ist) and getting our fill of high end bikes and pros all around. It was fun but we were all itching to ride. It was impressive to see the speeds at which some of these guys were going. Very cool. Had our share of expo shopping and gawking. Then headed to our new home for the night so we can get on track early in the morning. About 70 intense miles tomorrow- abeit cautiously, so we can keep jamming all week. Can't wait to ride! We got some serious Cali climbs tomorrow- the coast is just amazing. One more shout out to Capitol Hill Bikes for getting me ride while my frame is being replaced so I didn't have to miss this week.











Stay in touch with reciprocal links between blogs. Contact us for info.


Xtreme4 RSS

See these and many more videos at our YouTube Channel