: Spread the word via social networks and email. « Back to Blog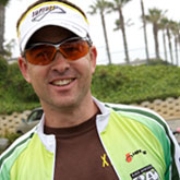 Wet cold and cranking. The threat of rain was realized only a mile into the ride. It started out light and by the time we got "warmed up" it was steady and the temp was in the 40's. This when I wished I had some gloves. Right- I didn't pack any because we were going to be in sunny California. No complaints- I knew we'd warm up on the cat 2 climb- and indeed it got warm. We huffed up those 3 miles at a competitive pace. I mean it wasn't like we were chatting it up. By then we wre ready to ride. But the swift descent froze me to the core and then we had a pit stop at the bottom which only made me colder. I was shivering and wanting the ride to be done for the day. We pushed on and got caught by the peloton at the feed zone. We took some detours through amazing canyons to get farther along the route and watch the race pass. I must have forgotten how cold I was by the time we hit the cat 4 because I sprinted over the top and was cruising down the other side. Cold sure, but loving it. We worked in small groups of 4 on the final flats pushing all the juice we had left in our legs. Ironically the pick up spot came faster than expected. Still a solid 75 miles.

When we stopped the air was warmer and the rain had stopped. We ate pizza and cleaned our bikes as we all regrouped. Tomorrow is yet an even harder day- we'll find out about that tonight.








Stay in touch with reciprocal links between blogs. Contact us for info.


Xtreme4 RSS

See these and many more videos at our YouTube Channel