: Spread the word via social networks and email. « Back to Blog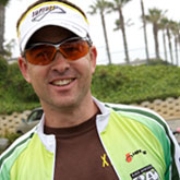 Climb, climb, climb... That's pretty much all we did today. We started out with a slow grade for about 20 miles- probably 3 percent average. Amazing valley pastures with hardly any cars and plenty of cows. The sun was out and it was a stark contrast to yesterday. We were happy to be riding and knew we had some work in front of us. All done we got in about 9000 ft of ups- three cat 4's, a beyond category (hardest climg of the tour) and a final cat 1. We skipped the first official 15 miles that were completely flat and the last 15 or 20 which were also flat. That was brutally apparent by our 14.4 mph avg. Not to be confused with taking it easy we worked hard all day. Even the 20 mile descent was slowed by the continuous switch backs. We cruised all day with very short stops and made it to the last climb at the top to watch the race fly by. It was good to see they were looking pretty beat up too! To give you an idea of the beyond category climb: about 6 miles of up at standard grades of 9- 15 percent. I'd say it was an average of about 12 percent or more. And the cat 1 was only 5k- 3.1 miles- but longer steeper sections. Without getting technical, it amounts to a ton of climbing at RPMs in the 50's because that's all you have left! It was awesome to see the race, experience the same climbs you see the pros struggle with, and finish the day standing. Tomorrow we head to the coast around Big Sur. Should be a bunch of smaller jabbing climbs all day.









Comments:
Good work
by: Mariana - 02/20/2008 09:13 PM
Sounds like you guys are having a blast! Keep up the good work on those Californian hills!



Stay in touch with reciprocal links between blogs. Contact us for info.


Xtreme4 RSS

See these and many more videos at our YouTube Channel