: Spread the word via social networks and email. « Back to Blog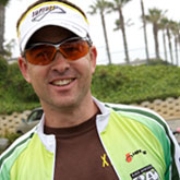 Today was a break in weather and miles. The tour rode the 15 mile time trial so we took it slow and headed out for a group ride along the route and then an added 15 miles (total 30). So we went out half way on the route which was a slight incline all the way, like 1-2 percent grade, then went out into the hills for our added milage. And on our return we follow the second half of the route back into town. It was a great perspective on what the pros had to deal with: road surface, grades, weather, cross winds, etc. Back in town we watched them come back at lighting fast speeds. We watched Levi start and just over 30 minutes later obliterate the standings by almost a minute faster than #2! Pretty cool. The whole town was on fire with tons of enthusiastic fans. We're gearing up for a tough day of climbing tomorrow.








Stay in touch with reciprocal links between blogs. Contact us for info.


Xtreme4 RSS

See these and many more videos at our YouTube Channel