: Spread the word via social networks and email. « Back to Blog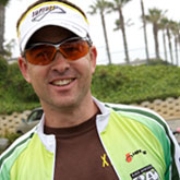 With a sun rise today we had lots to look forward to. Plenty of climbs and some sunny spots too. What more could you ask for. Before the ride I got a bacon, egg, cheese and tomato croissant- the largest one I've ever seen! It was the size of a small pizza. Good fuel for a long day. Then we were off, with hills right from the first half mile. The first cat 4 climb came after about 20 miles of warm ups and before we hit the top there was already another 5k sign for the next cat 4! Then I caught the simple green team- about 50 riders going mach 3. How I caught them I'm not sure because once I was on we flew down this valley. It was crazy fast and that only accelerated when we saw the 5k to the sprint sign. Consider that at least half these guys wanted to be in front, that the roads were more or less closed, and it was slightly downhill. Patrick would have been in heaven. We jammed through and then they pulled off for a pit stop. That left about 10 tag alongs primarily an Amgen team. I w as pumped and pulled them for a good ten minutes- seeing how they couldn't pull up and take a turn. But I was happy and fortunate to be able to push on at about 270 watts. They were all appreciative and we caught their other half of the team and pulled them along. Now we took some turns. After that it slowed up and I began to see why- the looming cat 3 with 20+ percent grades! Nice. The fans were out in force- it was madness. It was awesome. I held up and did part of the climb again to meet up with Christal for the remainder of the ride. We did another 2 climbs and waited at the top of the last for the tour to pass. They flew by and rolled over the ridge at about 15mph. We followed them down (way out of sight and behind about 300 support vehicles) to our final stop for the day. A solid 80 miles and God knows how many feet of climbing. Great ride. Tomorrow is totally in question because of the apocaliptic weather foeecast- 100 percent chance of rain and 25-30mph winds with gusts up to 45mph. Even the race organizers are debating what to do. We'll see. Special thanks again to Capitol Hill Bikes. Their generosity got me riding on a bike this week! The saddle has been an adjustment but overall I feel strong and ready to maintain my climbing skillz. Today I actually felt less fatigue than before and my body is really adjusting as well as eating a ton more. For example on the "easier" climbs I keep ramping up and finish strong at a steady 350 watts. Anyway, more stats later but it feels good to ride.















Stay in touch with reciprocal links between blogs. Contact us for info.


Xtreme4 RSS

See these and many more videos at our YouTube Channel