: Spread the word via social networks and email. « Back to Blog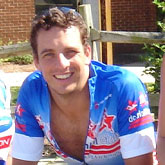 Before our training event, I drove up to NJ to see one of our sponsors, DPMSports about a few aero helmets, some glasses and a new bike frame for me. I got a full carbon TT frame and will be building it out over the next few weeks. It looks sweeeeeet even just sitting there on my living room floor.
Some of us threw on the helmets and glasses for the training event on Sunday and I have to say, we looked pretty awesome. But seriously, the glasses felt great on and didn't fog up or anything--and the helmets, well, they felt pretty damn sweet too. The wind noise is much reduced with the helmets on, which I assume is due to the aerodynamics.