: Spread the word via social networks and email. « Back to Blog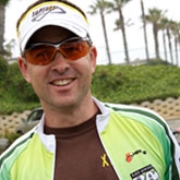 With 3 weeks to go until Ironman Arizona training is in high gear with a big mix of swim, bike and run. And even the shorter workouts (1.5 hours) are packed with higher intensity work. 40 minute intervals on the bike that push you mentally and physically. I could really feel the fatigue by the time Thursday rolled around when I had to push out a 16+ mile run. But somehow by yesterday- after having been cranking the pedals almost every day this week- I felt stronger. I could have been a dozen different things like nutrition, bike fit, not drinking, more sleep, etc but whatever it was it came at the right time! The next two weeks aren't that much easier- in fact my runs will get longer as will my bike rides.

Looking ahead I plan to pull way back on my running. Essentially taking some good time off between IM Arizona and three weeks later racing St Croix IM 70.3. That will officially be my last hard run from then through RAAM. So after IM Arizona my focus will be solidly on biking. While right now I'm at about 200 miles a week on the bike, that should easily go up to 300 miles a week. Plus we have a few exciting 12 and 24 hour training sessions to throw into the mix. That also means I'll be spending more time on hills (on my road bike) to build strength - probably about 50/50 between road and TT bikes. Whereas lately, since about a week ago, as I get ready to race Arizona I've been spending close to all my time on the TT bike.






Stay in touch with reciprocal links between blogs. Contact us for info.


Xtreme4 RSS

See these and many more videos at our YouTube Channel