: Spread the word via social networks and email. « Back to Blog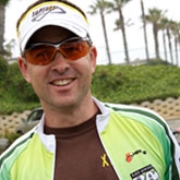 I rode a 16 mile time trial race this morning which helps to establish a benchmark in terms of fitness-- a specific distance at all out effort in a certain time. I averaged an even 25 mph at about 290 watts for the completely flat course and there was just a little bit of wind. After that we took off and went for a tempo training ride out to Great Falls and back- hitting up some good climbs to really stretch out the legs. It felt good to race and then follow it up with a steady effort. I'll do another time trial (same course) in November so I'm looking forward to improving and having that goal to chase.




Comments:
Any local rides?
by: Bob - 10/22/2007 02:30 PM
Does your team do any local training rides with other people in the Washington DC area? If so let us know as I'd like to be part of that. Thanks.



Stay in touch with reciprocal links between blogs. Contact us for info.


Xtreme4 RSS

See these and many more videos at our YouTube Channel