: Spread the word via social networks and email. « Back to Blog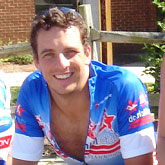 Some of the team met last night for more planning. Good session—lots of new ideas, and lots of stuff to do. Don't worry, we're not ignoring our training: We rode together earlier in the day, averaging about 25 m.p.h. over a short pre-work workout. But back to the meeting. One of things we talked about was bike choices. We certainly plan on being on TT bikes for most of the ride (better aerodynamics, and less upper body fatigue), but we'll need regular road bikes for climbing and such. As triathletes, all of us are comfortable on the TT bike, but a road bike is more relaxed and forgiving. I personally will need to spend a lot of time stretching during our training months, as the aggressive posture of the TT bike is like doing a forward bend from the hips; hard for me because I'm not all that flexible. I guess that on either style bike it's gonna be a long, long time in the saddle, so above all, we'll need to get fit perfectly.

These are the types of technical questions we're thinking about 8 months out.






Stay in touch with reciprocal links between blogs. Contact us for info.


Xtreme4 RSS

See these and many more videos at our YouTube Channel