: Spread the word via social networks and email. « Back to Blog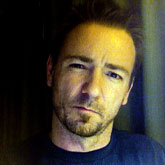 In some ways it felt like we had just left, I thought as we returned to Eric and Christal's 26.5 hours after we had all assembled to start this excursion. Almost like playing a tape backwards, we unloaded the cars, putting all of the gear on the curb into piles and groups the same as we had done when loading the cars on Friday night. The difference was, all of the gear was now 300+ miles more worn and 26 hours more used, as was my body. In other ways it felt like too long to have not slept, or showered. I wasn't overly tired having snatched a modicum of sleep and a better amount of "active rest", a term I heard bandied about during the night. I did however feel as if I had done a good days work. I likened it to a long workday of digging ditches, without the blisters. The two days blended together and the difference between day and night was nearly indistinguishable as we slept during the day and drove at night, not exclusively but in rotation so as to get some of each. Our 4 hr. shifts, oscillated like a well oiled well-pump (well… maybe an old rusty one). Yet the pump kept pumping and with a little lubrication will be as efficient of a machine with well fitting parts as anyone could hope to assemble.

With this past 24hr training exercise we have again exposed some glitches in our plan and the execution of it. Some we were able to fix on the fly, others will require some rethinking and implementation of new procedures. This outing was particularly useful as we put together more sub-team rotations than in any other exercise and did so in as close to race simulation as we could. In the days leading up to our last 24hr training opportunity we will be gathering intel from all 4 of our trainers to package up a final game plan in hopes of refining our plan to perfection.

For the riders the trip was useful in giving them a preview of the actual course, straining their physical and emotional limits in a situation not previously attempted. It also provided a training opportunity that they perhaps could not have recreated outside of this type of exercise and this type of terrain. I'm told that the Appalachian portion of the course is more difficult than the Rockies because of its proximity to the end of the race and the inescapable, steep grades. This weekends exercise brings us yet another step closer to knowing how and what to expect during that 3008 mile x-country odyssey we call RAAM…stay tuned.






Stay in touch with reciprocal links between blogs. Contact us for info.


Xtreme4 RSS

See these and many more videos at our YouTube Channel