: Spread the word via social networks and email. « Back to Blog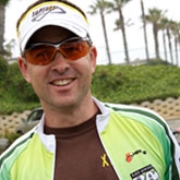 While we we think we have the sexiest crew doing RAAM the training is not always as exciting as you'd think. We're aiming to get in about 150 miles of hills and more rugged terrain every weekend from now until race week but our weekday workouts are not as interesting. We live on Capitol Hill and getting our hill workouts in before work can be challenging- Hains Point and other rides provide plenty of time trial and flat courses. So to mix it up at times, like this morning, we'll do hill repeats around the Capitol. That means going up the roughly 75 foot hill over and over and over again- actually over 25 times this morning. While it's not super exciting it's nearby, gets our heart rate up, and we get to pump through about 2,000 feet of climbing in an interval format ("on" going up and "off" going down). Sexy? Not all that much but it gets the job done.




Comments:
we need a bigger Hill!
by: Kirsten - 04/30/2008 11:02 AM
Thought about joining you for some repeats on my run, but one repeat by foot would mean getting lapped at least twice by you. Maybe next time. ;)



Stay in touch with reciprocal links between blogs. Contact us for info.


Xtreme4 RSS

See these and many more videos at our YouTube Channel