: Spread the word via social networks and email. « Back to Blog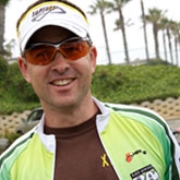 I remember starting this journey about 16 months ago and a few people mentioned that the training would be the easy part. Training to race cross country in 6 days would be the easy part? You bet. I would try to explain the complexity of the logistix but I wouldn't even come close. The idea is simple- keep a group of 18 people moving at a steady 20+mph for a week. Everything else is the minutia that takes months to work out in order to have a solid plan- and then that's just the plan- the real deal has to be flexible beyond your imagination so you don't dig yourself into a hole. What do you mean the light bulb burnt out? Guess what- there ain't no Radio Shack in the middle of the desert (although one is coming soon I'm sure). Well, duct tape that flashlight to the rider.

To throw some insight into the workings of Plan A- there are 3 vehicles, all with drivers and navigators round the clock, rotations for all those people, transitions every 20-30 minutes for the riders with time zones and 54 time stations to clock in to, over 300 meals to coordinate and nutrition to fuel the engine (riders), 8 bikes, 20+ wheels, 50 spare tubes and boxes of parts, insurance, budgets, and a bunch of opinions. Then there's the little things like toothbrushes, laundry, petty cash, contact lenses, washing, GPS coordinates, a 200 page rule book with penalties to match, contracts and waivers, gear and promotions, media, dating (refer to date auction entry), and meeting on about every single aspect to keep everyone on track. Who's doing what? That's Plan A. Don't ask about Plan B.

No wonder the training is the easiest part- it's the part that requires the least amount of thought! I mean we all know how to ride a bike- so go ride. So with that in mind each weekend is filled with 150 miles of riding, and about 8 hours of mental rest! Even so it's an amazing opportunity and an exciting venture, with much more than even the well prepared thought would be involved.




Comments:
Good point
by: Sora - 05/07/2008 01:45 PM
This is my favorite post.



Stay in touch with reciprocal links between blogs. Contact us for info.


Xtreme4 RSS

See these and many more videos at our YouTube Channel