: Spread the word via social networks and email. « Back to Blog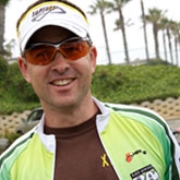 With a fair share of weekday riding we're also training about 8 hours or more (4+4) on the weekends and building in more and more hills as we get closer to the race. This past weekend we headed out into Maryland- one of our usual routes- and kept a good steady effort for most of the ride. Knowing you have two full days back to back means you can't leave yourself totally spent on day one- so there's some pacing involved although I think we all have a hard time "saving" any for the next day. But I was excited to see that coming back on the second day I felt stronger and energized- slowly raising our average speed throughout the ride and coming in at over 21 mph when we made it back into town (first day was 20mph+).

Racing and training are always a bit different. Right now we're doing some shorter more intense workouts during the week (1.5 hours at about 23mph) and then longer endurance rides on the weekend (4 hours at 20mph). This gives a good mix of saddle time and speed work. How that translates to race week is that we'll be using our speed in 30 minute efforts, switching between two riders every half hour for about 5 hours. And obviously needing the long term endurance as our muscles go into multiple 5 hour sets every day for a week- non stop. Ideally we'd go into the race with a predetermined race pace that we can keep consistently without going too hard up front and then dying off. At the same time we'll be fighting for every minute to go as fast as we can within those limits.

Next up on the weekend training schedule - two 100+ mile days of wonderful Skyline Drive. Nothing about that ride is flat and pacing will be everything.






Stay in touch with reciprocal links between blogs. Contact us for info.


Xtreme4 RSS

See these and many more videos at our YouTube Channel