: Spread the word via social networks and email. « Back to Blog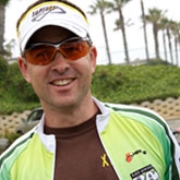 The official start for RAAM teams is June 11th at 5pm EDT (2pm Pacific Time), just two weeks away! The focus now is gathering our gear and finalizing the race plan, packing and setting off for the west coast. We're taking a ton of stuff to fuel our bodies and enough gear to ride through any type of weather from freezing midnight high speed descents to scorching furnace midday zero humidity climbs in the desert. And of course backups for just about everything except our legs. It's no coffee shop ride that's for sure.

The excitement is on full throttle as the magnitude of the race draws near. The massive training to get to this point, the years longing for it, and the vast amount of support from sponsors, donors, pledges and all our friends and family has ramped up for our departure. From here on out we're on a taper mode and making sure we get rolling in the best shape we can.

Much thanks to all of our supporters and we'll keep you very well connected during race week with up to date coverage right on our home page... photos, blogs, maps, stats and all that good stuff.




Comments:
Team Extreme is Badass
by: TJ - 05/28/2008 06:22 PM
I am insanely jealous. One word describes my feeling about this undertaking. AWESOME. Some ask, "Why?" Others ask, "Why not?" Count me in as a "Why Not?"



Stay in touch with reciprocal links between blogs. Contact us for info.


Xtreme4 RSS

See these and many more videos at our YouTube Channel