: Spread the word via social networks and email. « Back to Blog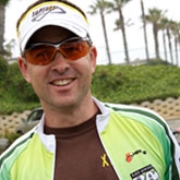 Race day is here and about 7 hours away from rolling out from the Oceanside pier. I've not been able to sleep past 6am any day this week even though lack of sleep is fast approaching. But I'm feeling great and rested, anxious to start getting those miles in. The most tiring aspect right now has been waiting, planning, and plotting without being able to go Go GO! Soon enough. And now only hours to the launch of a week full of biking round the clock with my teammates and crew. How kick ass is that?
We have 2 bikes per rider all set up and ready to roll, a dozen extra wheels and more maps and elevation charts with scribbles and highlighted marks than you can imagine. Three route books with 200+ pages each marked and noted, 14 eager crew and 4 riders that are gonna push all the way to Annapolis.
Yesterday we toured the first section of the course because there are even more strict rules (all with penalties). So we checked out the grades, allowed pullouts, turns and all that jazz. Having trained on the final 300+ miles of the course into Annapolis a couple times will definitely be a huge help as we make it back. The rest - well you gotta leave some surprises!
There is still stuff to do but the list is short and sweet compared to those we had days, weeks and months ago. At this point we could roll out of here and be totally on track but a few more bells and whistles are still in the works. The planning stress is slowly- no, actually quite quickly- evaporating from my compulsive brain and leaving me more and more relaxed as the start approaches. It's an awesome feeling knowing we've put in the time and training that now even though we're newbies on the block (there are so many veteran RAAM riders) that we're poised to cruise through this in an organized logistical attack on the course. No doubt we're ready. And I can't wait! For all of our friends back home, here we come.

Comments:
words of advice...
by: Tim - 06/12/2008 11:22 AM
SO pumped for you guys. Love being able to track your progress real-time. I only have one piece of advise for you at this point. DON'T STOP PEDALING!! Looks like you're making great time already--keep it up!
Get Across the Missisippi
by: Paul Hoftyzer - 06/14/2008 12:23 PM
I hope your advance team is checking go the crossing points of Ol' Man River which is on the rise north of St. Louis, soon to be flowing higher and swifter to the south. May U all have a strong tail wind crossing the midwest plains!